What challenges did you face with your fitness goals before you started personal training?
As an architect, I work lots of OT and have very limited time that I can spend at gym every day. I had been on and off training for very long time and had no progress. My body fat was sitting at over 17%. And I had almost no muscle definition at all. I have the ideal physique in my mind but have no idea how to get there.
How did you benefit from the different training styles and what do you enjoy about them?
I enjoy the variety of training that Jam offers, switching between my one on one sessions and the group boot camp kept the program interesting. He changed my mind set of training is always miserable repetitive. In addition, I have been doing lots of short sessions with Jam because of my schedule. And he has made them just as effective. So I know,I'm not wasting time on endless running.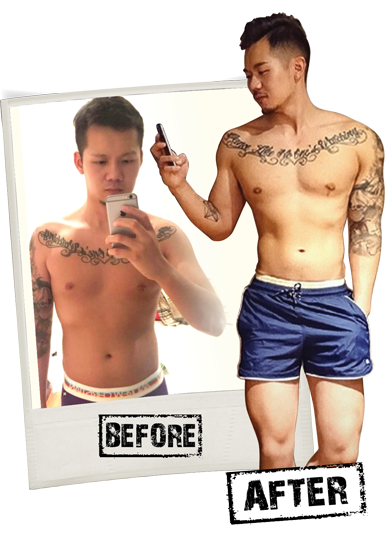 Looking back at yourself from before personal training until now, what can you say about your results?
I'm absolutely happy with the result I have got with Jam. My body fat dropped 6% in the 1st three month. And now with my fitness objective switched to muscle gaining, I started to see more volume and definition of my muscle groups in a very short time frame too. Now I have a much clearer picture on how to get the dream body I want. And I feel more confident in my body.
Based on your experience, what would you tell others who are considering one-on-one coaching as the biggest benefit of training with Jam?
If you are result-driven, just like me, Jam would be one of the best trainers you can find. His training is efficient, effective and fun. Moreover, he has incredible knowledge of nutrition and dietary. With the right training and right diet that Jam set up for you, you are almost guaranteed to see the result you want. And the result can come much quicker than you thought.

A certified Strength/Conditioning and Nutrition Coach based in Melbourne CBD, Jam Acero is one of the most passionate personal trainers in the industry.
Jam Acero
Director, Author and Speaker