Here's another high-protein snack that tastes like a cheat-meal, but you can enjoy totally guilt-free - the best part is that they're so easy to make! And trust me these are a way better alternative to those popular 'Protein' Balls (ie. Fat Balls) you can buy at the supermarket, those things have way too much Fat + Sugar!
Makes me wonder how they get away with calling it protein balls when protein provides the least amount of calories from these bars. Anyway just try not to have too many balls in one sitting...they're supposed to be a healthy snack between meals not a meal itself  :p
Servings: 8
Ingredients
• 2 cups crunchy peanut butter
• 2 scoops chocolate protein powder
• 2 ripe bananas, mashed
• 2 tbsp flax seeds
• 1 tsp stevia
• 1 tsp pure cocoa powder
Directions
1. In a large bowl, mix together peanut butter, cocoa powder, stevia, whey powder,
bananas, and flax seed.
2. Shape the mixture into 8 walnut-size balls, and place them in a container lined with parchment to separate the layers. Freeze for 2 hours minimum before serving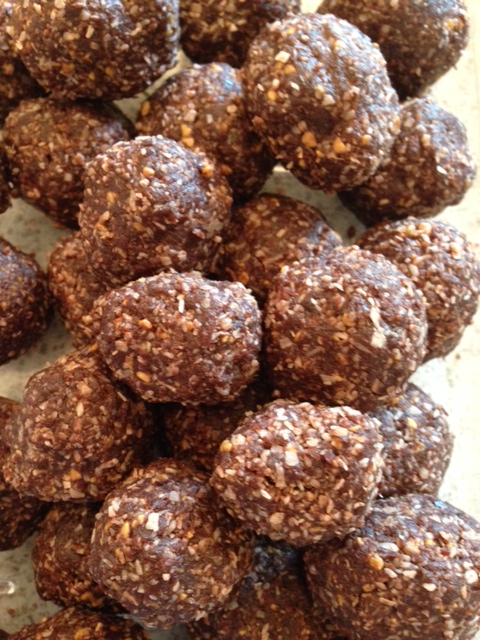 Nutrition Analysis: One Serving (1 Ball) = 87 Calories,  8g Protein, 7g Carbs, 3g Fat.